Stories from the Frontlines:

Yousef, Myrna & Elijah 
As a Middle Eastern family, it meant a lot to me and my family to be able to give back to people from the same background. I grew up in Syria and Kuwait and my wife is Egyptian. I spent some time as a college student in Egypt and was eventually fortunate enough to make it to the United States to finish my college education, pursue a career, get married, and have a family.
As a Believer in Jesus Christ and a husband to a woman that is in full time ministry, we enjoy spending time serving together as a family. Serving with VOR was different because it gave us a very special opportunity to take our four-year-old son along to serve our own people. As we explained what we were going to do, our son completely understood that we were going meet people that spoke our language (Arabic) and in doing so they would feel closer to home. It meant the world to us that our child would connect the dots of how God loves all people and that we could make these refugee families feel closer to home by coming alongside them.
Our first drop off was to someone from Iraq. He immediately said that he didn't speak English on the phone and we were able to speak Arabic in the same dialect. He opened up and told me his entire story and he even called and texted me the next couple of days.
Our second stop was to a young man from Egypt, where my wife's family immigrated from. He came to this country pursuing the best for his family in the middle of a pandemic! He left his wife and kids back in Egypt so that he could settle in. He was so grateful for the groceries provided by VOR and that they were connecting with him. He told us about the volunteer that had delivered groceries to him through VOR prior times and appreciated the support. Our family has been thinking about him and praying for him. We really do hope we get to see him again and eventually meet his family!
It is evident that VOR is serving these refugee families out of the love that is modeled in Jesus. It was amazing to be a part of this ministry and we will definitely look forward to doing more of it!
Stories from the Frontlines: Enoch Zeng (5th Grader)
I think that it was a really good experience for me, especially since it was my first time on a mission. It was really fun helping sort the food and deliver them for refugee families during this pandemic.
One thing that stood out to me was that there were so many little kids helping, and half of them were around 4-5 years olds as well as maybe 7-9 year olds. It made me wish that I could go on a mission when I was younger when there wasn't a pandemic, so that we could physically interact without wearing masks and gloves.
Another thing that stood out to me was that I felt a kind of joy in helping others and knowing that they will have food and water for about another week. After we were done sorting the food for the families, we waited for some groceries to come and then we loaded the car and set off.
On the first day it was really new and eye opening. Before I went on this mission, I was always afraid that I would offend people that we would preach to, maybe because of their religion or culture, either way I was always scared I would offend them. But when I went on this trip, delivering food, we would ask if we could pray for them, and some of them said yes and some no, but none of them were offended in any way. One of the people that we met was Muslim and when we asked if wecould pray for him, he just said "I'm Muslim but you can pray for me." and so we did. From this I've learned that I shouldn't be afraid to share the gospel, and be like Paul who praised God wherever he went. I also learned to not judge others by their religion and that sometimes people can be kind and loving even though they don't believe in Jesus Christ.
Stories from the Frontlines:

Cat Nakawatase
Ecclesiastes 3:1 There is a time for everything, and a season for every activity under the heavens 
This is a difficult year for everyone, despite the pandemic, I praise God for opening a door for me under this special circumstance. My mom and I and my three year old daughter (we call us the three-generation team) are fortunate to be able to help distributing food to needed families for Voice of Refugees. By serving others, we also learn so much and know that God is with us wherever we are. 
In the first week, my mom and I were shy and inexperienced. Most of the time we only managed to have simple conversations with the families we delivered food to. Then church sisters joined during second week and one shared her volunteering experience. Her advice has helped us connect with the families we delivered to. Hearing their stories, needs and struggles, God helped me in my prayers for them. It was my first time praying in English and I am certain it was not me but God who led the way. We hope to continue serving our communities and be part of Voice of Refugees family. 
Zoom in on Food Delivery:

Rick
Covid19 struck in the 2nd week of March, with shutdowns everywhere. By June, I was bored, isolated at home, and somewhat depressed. I needed to do something. I looked online at Mariners Church's website for volunteering opportunities. I am semi-retired, and I love photography. Opportunities to help with 9 high school parking lot graduations at Mariner's Home Campus in Irvine…were all taken. I looked further and came across Voice of Refugees, with needs in food sorting, distribution, and home deliveries of groceries. I thought, "Hey, that's pretty close to me in Anaheim. I can do that!"
I signed up online, and got a call from Mariu Makumi, Pastor of Outreach to the Middle East at Mariners Church. I drove to VOR, not quite knowing what to expect: Would I be accepted? Could I do this? What if I could not speak any of their languages? The first couple of days were challenging…getting used to finding addresses, calling people ahead of time, searching through large apartment communities, etc. And I also wondered: do I even have anything in common with these people?
Slowly, relationships began being built. One woman from Iraq had just been laid off from a large healthcare company and did not know what she would do next. I listened intently to her concerns, worries, and helplessness. She seemed to appreciate it. A few days later, another woman asked me to pray for her on her front patio. Pain in her back, and lower leg…and concerns for parents back home in the Middle East. So, I prayed for her right there. Another older lady came out and wanted to know about me a few days later. We talked about her beautiful garden with Coleus (an annual shrub grown in the sub-tropics) she had grown and propagated. She even offered me some cuttings. I began to learn the name of kids who run to greet me each week and pick up groceries for their family.
Then last week, an Egyptian woman politely asked me to read this letter and explain it to her. Though she and her husband have excellent credit, she was turned down from an automobile dealership. I helped her understand what happened behind the scenes and referred her to the largest Toyota dealership not far away.
Before I knew it, just being myself…I felt needed, and appreciated. I started discovering that Middle Eastern people are just like me…they have families, they love, they experience heartache, pain from joblessness, and have a need for connecting with others and out in the community. I celebrate with a father, now home, whose son had told me weeks earlier, was suffering with hospitalization from being infected from Covid. He is joyful, thankful, his entire family is healed, he shares with me. I leave, and say a prayer of thanks to my God, for healing him. I know now, I am being used, and it feels good. The example of an old spiritual mentor of mine…'get out Rick, go be of service to someone else'…is being fulfilled. Thank you VOR for letting me be of service in your mission to others.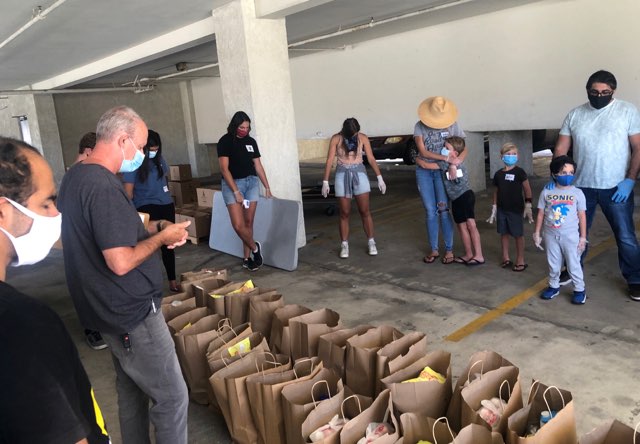 Summer Camp Director's Report

Dear VOR volunteers, sponsors, and families:
Students and staff had a fantastic time this summer in our annual Summer Student Camp! We are amazed at the Lord's faithfulness in carrying us through the unique circumstances of 2020 and showing us an abundantly joyful, fruitful summer. While Summer Camp's format was notably different than previous years, students still gathered daily in age-specific groups to discuss different characters in Scripture, complete art projects, play games, enjoy physical activity, and refresh their academic skills. Camp also included weekly movies with snacks, music and dance, and fun parties at the end of summer (the younger kids made "slime" together while the older kids enjoyed an online video game party). 
Online "PE" included a mix of calisthenics, aerobic movements, dance, balance, stretching, and coordination activities. YLC and volunteers were instrumental in helping staff facilitate these activities. Ms. Nivine also created enriching crafts for the students each week connected to the character study topics, and students in both younger age groups were highly engaged during these times. Academic review activities, while not the students' favorite, provided some stability and structure for students, and they were able to earn fun rewards for participating. Students also experimented with learning to draw and paint different pictures, opening up these avenues for self-expression and therapeutic art as 2020 continues. Ms. Rachel engaged her class in online games and creative writing while introducing Scripture every Thursday morning, and Ms. Cheri taught her students God's word while demonstrating cultural sensitivity and creating a safe space for different perspectives.
The middle/high school's Youth Leadership Corps grew significantly this summer, having the same number- and often times more- students attend regularly than in years past. Nearly all of these students were new to the program and expressed an interest in continued involvement with YLC. This means that YLC has nearly doubled in size, when online students are combined with previous years' core students who come to in-person gatherings. What amazing growth! Numbers alone do not tell the complete story; those who came this summer engaged heartily in leadership assistance to staff, team building games, and academic review activities, along with contributing to (and sometimes even initiating!) 
rich discussion during character studies on topics as complex as evolution or the universe's beginnings. YLC students were always encouraged to search Scripture for answers to their questions, and not to be afraid to seek God's guidance in their lives. 
This summer could not have happened without the commitment and dedication of VOR staff and volunteers. The SSC team would like to thank Joe Guidotti for integrating SSC weekly deliveries into VOR's existing food delivery system, as well as for overseeing the distribution of laptops for those in need. We would also like to thank short-term mission teams from Mariners Church, Branches HB, and New Spring Christian Center, for assisting in online activities, helping to pre-package materials, and delivering items directly to families. YLC extends a special thanks to Refuge Printing, for the generous donation of the first set of T-shirts ever to bear the YLC logo. Students wore them with great pride!
Lastly and most importantly, we would like to thank our ever-present and all-sufficient Savior Jesus Christ, for his grace and guidance throughout this summer, as well as God's glorious Holy Spirit for allowing us to already see bits of the harvest being made among us. Our prayer for you is that you will all continue in health and wholeness as you rejoice in Him! 
– Mrs. Erin Ortega & SSC staff
Executive Director's Corner:

Updates from Pastor Joe

Experiencing God's grace through faith in Him alone!
As Christians, we truly serve a God whose plans are hidden from our view, until and if He chooses to reveal them to us. At VOR, we are on a faith walk with God, who is uncovering His plans one day at a time to us. When the pandemic struck, initially, VOR was considering closing and waiting the pandemic out. But God had other plans.  In response to our governing authorities' recommendation for essential services to continue, VOR made a decision to continue our food distribution service to the 30-40 families who regularly attended our learning center. This step of faith opened up a new adventure for VOR: God began to connect us to many new families in the community. Since March, VOR's many volunteers (see stories by Myrna & Youssef, Rick, Enoch, and Cat in this issue) and staff have made 3,649 deliveries comprising 148,896 pounds of groceries (over 40 pounds per delivery) to 316 families! Every week, we continue to serve over 220 families with some being added and some dropping because they can now afford groceries (praise God!). They are experiencing God's love, not only with words, but also tangibly so tummies are filled, and spirits lifted through a kind welcome and concern for their lives.
God used the pandemic to 'push us' to more proactively meet deeper needs, such as the lack of social connection among families and academic support for the children. By faith, we decided to launch online services. We didn't have the expertise or technology and we didn't know how much our community would embrace it. But God, in His perfect timing, provided skilled IT volunteers, Erick Ortega and Jackson Lu, to help us to select and deploy the right technology. God provided a grant through Anaheim Community Foundation for us to buy 50 student computers for our Student Summer Camp, and Mariners Church donated another 20 computers for our ESL students! God showed us through the appreciation and joy expressed by students that meaningful relationship can be built and even flourish through online means! Furthermore, we discovered that online groups tend to be easier for a new student to join than to come in person. Our classes are attracting new students, both adults and children. We even have students joining classes from other countries! Currently, about thirty adult ESL students consistently gather online, Mondays through Wednesdays, to improve their English-speaking ability, and to discuss current News and Cultural events which is vital for them to thrive in the US. Who knew that we would host an online Summer Student Camp that captivated so many students' hearts and created precious memories for so many volunteers (read Erin's story)!
Also, God used the pandemic to gently move VOR into deeper partnerships and to start new partnerships because we could not meet refugee and asylum-seeking family needs alone. We deepened our relationships with Mariners Church, who donated over 115,000 pounds of groceries and sent over 100 food distribution volunteers, including two mission teams, to serve refugees. We began a new partnership with Branches HB Church, who sent volunteers and has been giving weekly to support basic grocery needs. For their annual VBS, they encouraged entire families to serve by sorting and delivering groceries (read Myrna and Youssef's story). We furthered relationships with Sa-Rang Church, who donated over 170 much needed Care Boxes (filled with snacks, masks, paper products, etc.) for our families and helped with baby supplies too. We deepened relationships with New Spring Christian Center; when one of their pastors volunteered as ESL teacher and News & Culture facilitator, they began contributing quarterly, and sent a mission team to help our Summer Student Camp. We were found by OC Herald Center, who decided to host a diaper drive to collect baby items for refugees' families. All of these good deeds happened because many people decided not to rely on their wisdom and understanding, instead relied on God's wisdom and reasoning, then stepped out in faith and did what felt uncertain to them, but ultimately pleased God. Because of these loving actions, many refugee and asylum-seeking families are experiencing God's love and grace.
God's Grace to You,
Joe
Please Pray
Praise God for the increasing reach and impact of VOR's Online ESL Classes! Pray for God to overflow our ESL teachers with the wisdom and grace they need. Praise God for timely donations and resources that have enabled families to overcome technological barriers (the lack of computers, devices, and/or wireless internet) and attend classes.

Praise God for blessing many kids, parents, volunteers, and staff through the 2020 Student Summer Camp! Despite constraints due to the online format, VOR was able to reach many new families and bring much needed enrichment to underserved kids and teens in our communities. May God provide the vision for continued services that can be a source of strength and resilience to our most vulnerable families.

Pray for the health of refugees and their family members around the world, volunteers, staff, partners, and the general public in light of the COVID-19 situation. Pray for protection for families currently in refugee camps who have heightened needs and stress due to reduced NGO presence, resources, and medical care.
Pray for each food delivery interaction and may God provide divine opportunities to bring His love, healing, and gospel. 

Pray for VOR staff and volunteers. Wisdom, discernment, stamina, and grace to work with refugee families.




Pray for refugee family members still in their country of origin awaiting approval to join their families in the USA.

Pray for safety for family members of refugee families still in conflict zones, war zones whom are externally and internally displaced.
WHAT'S HAPPENING?
Fall 2020 Program Dates: September 8th to December 11th, 2020
What's New?

Discovering Truth Study Groups | Registration Upcoming
Kids & Teen Clubs Evening | Registration Upcoming
Pathway to Citizenship Workshop | Registration Upcoming
Night at the Movies | Registration Upcoming
VOR Continuing Services:
ESL Intro to Level 4 | M Tu W | 11:30pm to 1:00pm


US Culture, News, and Hot Topics | M Tu W | 1:00pm to 1:30pm

1-on-1 Tutoring | By Appointment



1-on-1 Job Coaching | By Appointment


Food Sorting | M W Th | 10:30 am to 1:30 pm

Food Delivery | M W Th | 1:30pm to 3:30pm
VOR Dashboard – A numerical expression of putting God's love into action!